Unlock Service Houston, TX – City Locksmith Store
The lock installed at your office premises or home is installed to prevent entry from unwanted sources. But it becomes very annoying when the lock that is installed to protect you becomes a hindrance. Yes, we are talking about a lockout situation and if you don't get an unlock service fast, you may end up breaking the lock. Now you don't have to do that as City Locksmith Store is there to provide you lightning fast and reliable unlock services in the Houston, TX area.
Unlock service for all types of lockouts:
Forced entry is the not an optimum solution to a lockout. Yes, we understand that it will help you gain access to your property immediately, but in the process, you will end up damaging the lock as well as the door. Instead of breaking the lock and the door, you should call us. We are experts at handling lockout situations and have handled countless lockouts of all types. Our unlock service can handle locks of all types and sizes and no matter how old or new the technology in the lock, our locksmiths will always find a way around it.
Safe unlock service
It is very normal to forget the combination of your safe or misplace the key to your file cabinet. Since safe/file cabinets are built to last long and are designed to withstand forced entry, you may not be able to forcefully open the safe/file cabinet. So, how do you open a robust lock? Call City Locksmith Store. Our unlock service will first try to open the lock without damaging it but if that doesn't work out, they will try to saw open the safe/file cabinet and making sure in the process the contents within are not damaged at all.
Trunk unlock service for cars
Breaking a key into the lock, misplacing the key to the trunk or locking your key in the trunk are some of the reasons that we have seen over the years that lead to a trunk lockout. But you don't have to worry as we are only a call away. Our trunk unlock service will unlock the trunk on site and you can be on your way in a matter of minutes.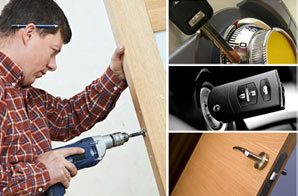 What makes us special?
We're there when you need us
Our services are economically priced
We unlock all types of locks with zero damage
Quick service delivery
Onsite resolution of problems
Expert hands
Dial 713-357-0748 now to hire a locksmith today.