New Locks Installation Houston, TX – City Locksmith Store
The moment you notice a weak lock at your home or office, the first action that you should take is call a locksmith to figure out whether it needs to be repaired or replaced. Delaying inspection, repairs, and new locks installation for days will only make you more insecure about the security of your property and at the same time make you vulnerable to potential threats. You always need sturdy and long lasting locks at your place and avoiding installation will only create unwanted trouble.
Hiring a reputed locksmith firm like City Locksmith Store will give you two advantages. First, if after inspection we feel that the lock doesn't need to be changed, we will let you know and perform the necessary repairs. We don't fool our clients for an extra buck or two. Second, if the lock is damaged beyond repair, then you can use our services to change the lock in a single session.
A wide collection of locks:
Having access to a wide range of locks and international manufacturers gives us the option to offer our clients a plethora of options. We have partnered with the most recognizable and reputed lock brands and buy our goods only from them. This gives our consumers a lot of quality options that fit their budget. These locks are of the best quality and are built to last for years. So whenever you need a new locks installation and choose us for installing the locks, you can be confident that we offer only the best options.

Some of the locks we offer include: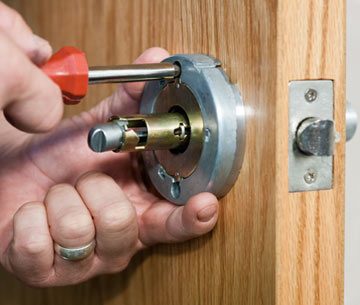 Deadbolts
Cam locks
Wall Mounted Locks
Smart locks
Rim/Mortise locks
Rim Latch locks
Padlocks
Lever Handle locks
Key in Knob (KIK) cylinders
Jimmy-proof deadbolts
High-security locks
Keypad locks
Magnetic locks
Confused on which lock to choose? Let the experts recommend
With the amount of options available in the market and on the internet nowadays, a consumer is bound to get confused about what to choose. You don't have to worry anymore, simply call us and we will help you identify the locking options that will best suit your requirements.
Is it expensive?
The best part about our offering is the number of options that a consumer has. We offer many quality options so that even if you have a tight budget, you will always find something that will fit your budget. Along with that we only charge very nominal installation fees and make sure that everything is covered in the budget that you have discussed with us.
For new locks installation call us today at 713-357-0748.